About Me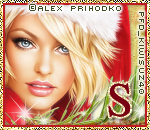 Hello, I am Scribbles , the Girl behind Scribbles Tags N Tuts . I have been writing tutorials since May 22, 2009. My first tutorial was called Twilight Obsession. How I got my name is simple. I found tagging to be my Guilty Pleasure. I thought it fit perfectly. Well that is until I changed the name. I am a designer as well. You can find links to my blogs on my top menu. If you have questions please feel free to ask. Other wise you can read more about me on my ABOUT ME PAGE!

Tuesday, July 16, 2013
Artwork of
Jay Trembly
, You can purchase from SATC
Here
Pay to Use Scrap Kit
Just Beachy
by
Bibi's Collection
Both can be purchased at
Scraps and the city
New Transparent Raster Layer 700x700
open element 49 copy and paste as new layer
resize down 2 times by 80%
open your tube place as desired
Move below the frame and erase all parts on the outside
add a luminace legacy
Open paper 2 copy and paste as new layer
Resize down if desired and move below the tube layer
erase all parts on the outside
open the tube again copy and paste as new layer
resize down 1 time by 80% and move above all other layers
Duplicate the frame layer and move above the tube layer
Erase parts of the tube below the frame
Hide the duplicated frame layer and with your tube layer highlighted
Grab your magic wand click on parts of the blue when u see the marching ants
where you want them go to selections, Modifity and Feather by 4
Do this with as much of the blue as u want to remove
I kept a good bit if it near the bottom.
unhide the frame layer and erase all parts covering the tube
open element 51 copy and paste as new layer
resize down 1 time by 80% and move below all other layers bottom centered
open element 59 copy and paste as new layer
resize down by 80% about 1 time place to the bottom above all other layers
Duplicate and Mirror
Open element 16 copy and paste as new layer
Resize down by 80% and move to the right of the tube
place below the sand and erase parts of the frame and trees if needed
Open element 80 copy and paste as new layer
Move to the bottom and above the tube layer
below the frame later
erase all unwanted parts
Open element 75 copy and paste as new layer
Place to the left, duplicate and mirror to the right
Merge down and move below element 80
you can move element 80 down more if needed just erase any extra unwanted
open element 47 Copy and paste as new layer
resize down 1 time by 80% and move below the tube layer to the bottom right
Move below the trees too ( you may need to hide all extra elements )
open element 50 copy and paste as new layer
resize down by80% about 2 times and move above all other layers covering her boobs
Duplicate and hide for now
Open element 50 again copy and paste as new layer
Move to the bottom left above all other layers
Duplicate Mirror and move to the right
above all other layers
unhide the duplicate layer and free rotate by 20% to the right and place above the larger starfish on the left
Duplicate again, mirror and move to the right
open element 62 copy and paste and new layer
Move to the left below the star fish
Resize down by 80% 1 time
erase all parts if below the star fish
open element 46 copy and paste as new layer
resize down 1 time by 80% and place in the center between the starfish
open element 61 copy and paste as new layer
Mirror and resize down by 80% about 3 times
move below the smaller starfish on the left
open element 83 copy and paste as new layer
resize down 3 times by 80% and move center left below element 61
open element 81 copy and paste as new layer
resize down as desired and place on the top left of the frame below the tube layer
open element 96 copy and paste as new layer
resize down as desired and move to the top right above the starfish on the right
open element 53 copy and paste as new layer
resize down 1 time by 80%
Move to the center below all the starfish layers
you may need to resize 1 more time if needed
Open element 69 copy and paste as new layer
resize down as desired and move to the right of the mp3 player covering the one side
should be directly above the mp3 player
open element 94 copy and paste as new layer
resize down 2 times by 80% and move to the bottom above the glass and mp3 player
This needs to be above the right starfish
add your name copyright and save